Natalya Kasperskaya: We'll be Lucky If German business People Like Our Antiviral Products
by Vladimir Mitin
According to International Computer Security Association (ICSA, www.icsa.net) there is an ever growing possibility that your computer can get a virus and stop working at the most ill suited moment. This authoritative international organization well known by its thorough tests of data protection software forecasts that such a threat will rise by 48 percent in 1999. Its predictions could become a sober reality even despite growing abilities of modern antiviral solutions. So there is nothing strange in the great attention system administrators pay to protection of their corporate networks.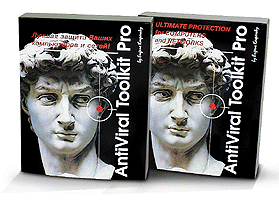 The AVP package is available in 9 European languages
Help in solving the problem can come from Kaspersky Lab (www.avp.ru). Founded in 1990 it became by now one of the most known Russian software companies and its AVP antiviral solutions family is widely accepted all over the world. The highest quality of Kaspersky Lab's products is being constantly certified by the tests regularly conducted by ICSA, independent antiviral laboratory West Coast Labs (www.westcoast.com), authoritative English magazine Virus bulletin and other widely acknowledged organizations.
In 1998 professionals of Kaspersky Lab protected its corporate and private consumers from more than 5,000 new viruses, though a year earlier the number of new viral patterns received and cured by the company had not exceeded 3,500. Finding remedies against unknown viruses usually takes a very short time here.
AVP antiviral solutions appeared at the German retail market in 1994 when Kaspersky Lab signed distributor agreements with Fuhs Security Consultants (www.avpro.de) and Prokon Software (prokon@t-online.de). Today they sell a boxed version of AVP for Windows 95 and Windows NT designed specially for Germany - a full-featured product priced at approximately DM 99*1 (including one year support).
-----
*1. AVP software is now available in Russian, English, German, French, Polish, Spanish, Ukrainian and other versions comprising altogether 9 different languages. In the nearest future their number will rise to 12.
G Data Software (http://www.gdata.de), another Kaspersky Lab's dealer, promotes professional AntiVirenKit8 and light PowerAVP. The former is available for DOS, Novell and different versions of Windows for about DM 320, the latter is destined for home users and costs DM 49.95. besides selling the programs G Data Software provides technical support to German speaking users. Every quarter this company alone sells in Germany about 100,000 antiviral CD-ROM copies of Kaspersky Lab's products.
It seems that the Russian company has a quite strong foothold in the German market but analysts see new great prospects for it. Following is an opinion of Natalya Kasperskaya, general manager of Kaspersky Lab.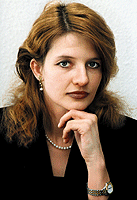 Natalya Kasperskaya: We have chosen
one area and focused exclusively on it
PCWeek: Madam Kasperskaya, your company participates in CebIT show for the fourth consecutive year. What purpose do you pursue?
NK: We are eager to take root at the German corporate market and are not going to hide our intentions. There are all preconditions to accomplishing such a task because even in Russia we are more oriented toward the corporate market, not retailing. Last year we got almost 75 percent of our income at the internal market and 70 percent of this amount came from corporate customers. In Russia and CIS we have thousands of big consumers including Administration of the President of Russian Federation, Federal Executive Agency for Government Telecommunications and Information, Central bank of Russian Federation, Constitutional Court, State Pension Fund, State Fiscal Police, Finance Ministry, Customs Administration for Information and Analysis of the State Customs Service of the Ukraine, Finance Ministry of the Republic of belarus, National Treasury of Kazakhstan, Central bank of Uzbekistan and many others. And there is no doubt whatever, all these organizations made their choice only after all possibilities had been thoroughly analyzed.
PCWeek: but problem of data security has many facets - differentiation of access rights, protection against hacker attacks from outside and many others. And your company offers only antiviral tools. Doesn't it diminish your client base?
NK: Sure, there are companies offering antiviral software, firewalls and network administration utilities, all in one box. but is it good for users? It's very difficult to be equally successful in many various spheres. Our strength is that we have chosen only one area and focused exclusively on it. The most professional testers of the world who deal with the multitude of antiviral programs have acknowledged our products' high quality. At the same time our software is available for different platforms and integrates well into many network administration tools. Our task is to offer freedom of choice to a system administrator so he or she could find the optimal configuration of the products for users.
PCWeek: How do you support your corporate clients?
NK: We have partners in more than 25 countries including Australia, Austria, belgium, Great britain, Hungary, Germany, Hong Kong, Greece, Spain, Italy, Iran, Canada, Cyprus, Malaysia, Mexico, New Zealand, UAE, Panama, Poland, USA, Thailand, France, Switzerland, Sweden and some others *1. When users from these countries encounter problems they can address our local partners. If a local representative is not able to resolve the question it's forwarded to our headquarters to be solved by Kaspersky Lab's professionals in Moscow.
-----
*1. Kaspersky Lab also has more than 100 partners in the states of CIS.
Bare Facts
- There are only few companies offering antiviral solutions in the world. According to Dataquest, Network Associates overtakes 50 percent of the market, Symantec's share is about 23 percent, 7 percent of the market belongs to Trend Micro and the remaining 20 percent is divided between other 25 to 30 companies.
- Antiviral solutions testing is conducted by many organizations most known of which are ICSA, West Coast Labs and Virus bulletin. They keep powerful virus databases and prepare regular commercially available reports.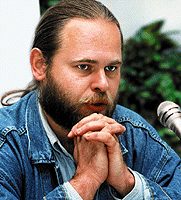 Eugene Kaspersky: As a rule it takes about half an
hour to develop an antidote for the new virus
- Eugene Kaspersky, head of Kaspersky Lab's software development department, is now 33. For the last ten years he has been fighting against computer viruses. being a professional mathematician he began his career as a cryptographer, his hobbies are automobile and tourism. Kaspersky has written many articles and three books on antiviral protection. First he fought against viruses single-handed, then headed a special task force organized in Kami sci-tech centre. In 1997 his group became an independent company and took the name of Kaspersky Lab. Today there are 40 people in it. Five of them are responsible for new viruses analysis, and 18 are developing the production line of AVP solutions. Another four people are being engaged in technical support (answering every day about 100 questions received from the company's clients and partners all over the world through fax, telephone and e-mail).
Recent versions of AVP software can detect more than 25,000 viruses. besides it has a special heuristic module rarely found in such programs, which is able to detect up to 80 - 90 percent of unknown viruses.
AVP software can check compressed data in ZIP, ARJ, LHA and RAR formats and control executables packed with DIET, PKLITE, EXEPACK and other programs. Altogether it supports about 20 various formats.

Defeating new viruses doesn't take much time
Analyzing different viruses Kaspersky Lab. Has come to conclusion than only 5 percent of them are written in Russia. The great majority of new viruses originate in Hispanic countries and states of Latin America. It's quite interesting that the share of Russian-made viruses is constantly diminishing: either there are less programmers in Russia or the specialists are now being engaged in more useful activities...
Joint Exposition
Three Russian companies - Epsylon Technologies, a developer of communication tools, Kaspersky Lab, a developer of antiviral software, and Context, a developer of data analysis solutions, - invite you to their joint exposition entitled "Advanced Corporate Technologies" at CebIT 99. You will have an opportunity to learn about the latest achievements in three most important IT areas: (1) data delivery; (2) data security; (3) data analysis.
Welcome to Hall 5, Stand G10!